Last week I picked up this huge Thomasville armoire.
It has great detail, but we all knew paint would transform her.
I attempted to avoid this big project, but I know better than to think I can sell an unpainted item. Besides, it didn't have the look that Simply Vague was going for. Or the look I like for that matter.
I spent several hours on Tuesday with Annie Sloan French Linen and my handy waxes.
The paint and dark wax give The Beast an old world look. In fact, she would look great in my home! But she is at Simply Vague and will be ready for opening day on Sunday, July 1.
I'm proud of the transformation – she took a while but now she is ready for a new home.
The dimensions for the tv area:
With doors open: 55" corner to corner (diagonal)
Door to door: 39" (straight across)
Top to bottom with doors open: 43"
The black insert can be removed.
Overall dimensions:
85 tall
49 wide
27 deep
Thanks for stopping by. The weekend is almost here!
Partying here: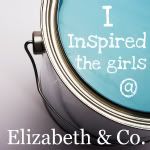 XO-