Hi All,
We had a great weekend and hope you did too!
I woke early Sunday and decided to complete the million half-started projects in my garage.  I am tired of looking at these items.  Some have been in there for two days, while others have mocked me for months.
This week, I will move them all to the stores!  It's in writing - I am committed.
So that means you will see several completed furniture transformations this week.
One small project that has been sitting far too long was a frame.
I found this oversized frame and painted her in a beige/gray shade.  It's a new color for me and turned out to be perfect for this piece.  Distressing and wax finished her off.
We sell a lot of frames.  I always wonder what people do with them.  Instead of leaving this oversized frame empty, I filled her with chicken wire and created a message board.
Can you read the card?
It's a thank you card from Christy that makes me laugh every time I see it!
It's hard to see the color, but I can assure you, you will see it on many things.
This oversized frame would look great in a mudroom or over a desk.  And it's useful!
XO-
Partying here:
Just Something I Whipped Up @ The Girl Creative  Metamorphosis Monday @ Between Naps On The Porch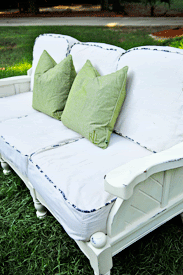 Twice Owned Tuesday @ House Of Grace Nifty Thrifty Tuesday @ Coastal Charm Time to Shine Tuesday @ A Diamond in the Stuff Tuesday Treasures @ My Uncommon Slice of Suburbia