Hi All,
I am thrilled to bring you a before and after today!
I received a call from a gal who happened to see my pieces at the
Decorators' Show House.
She asked if I would finish a headboard for her. I was thrilled to do so and here are the steps we used.
She purchased this full headboard from the Trifles and Treasures tent at the Decorators' Show House (donated items from the community). It came complete with the duck tape.
Upon removing the tape, we found that the piece was in two parts. Nothing a little wood glue and clamps couldn't fix.
Look beyond the many other projects in the garage.
Then the first coat of Old White was applied. I painted both sides of the headboard, just in case it finds its way in front of a window.
Then, I moved this piece into the foyer. My new favorite painting spot.
I do want to point out that it is best to paint upside down as well as right side up. You get in all the detailed areas.
Two coats of paint, wax and light distressing.
This headboard has great lines. I distressed the edges to make the lines pop.
All done.
I really enjoyed working on this project and am honored to have been given the chance. I must say, it amazes me how my hobby has evolved. I love it all!
Thanks for stopping. Please follow along by email or through friend connect! Many exciting projects coming this week!
'Til next time.
XO-
Shannon
Partying with these fun gals:
Motivate Me Monday @
Keeping It Simple
Amaze Me Monday @
Dittle Dattle
Metamorphosis Monday @
Between Naps On The Porch
Nifty Thrifty Tuesday @
Coastal Charm
Tuesday Treasures @
My Uncommon Slice of Suburbia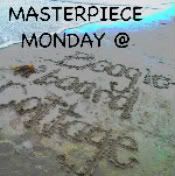 http://www.perfectlyimperfectblog.com/